London Art Fairs October 10 – October 15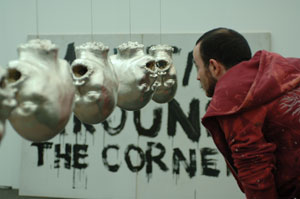 Art fairs and their related spectacles are growing more commercial and frenzied with each new city I visit. In reality, the fairs in London during October probably weren't any more maddening than Basel, but the effect is cumulative, like mercury in your blood. If you are an art lover, these extravaganzas will deepen your cynicism; if you're an addict, they'll feed your fix. Put in another way, art fairs are to art what brothels are to sex.
On this latest go-round in London there were no less than five fairs: Frieze, Zoo, Pulse, Year'07 and Bridge. Scope took a year off, presumably to concentrate on its upcoming bread-and-butter fairs in Miami and New York. There was also a design fair that I missed. Among the dozens of concurrent events was a powerful Louise Bourgeois show at the Tate Modern, which also played host to Doris Salcedo's chasm running the length of Turbine Hall. I heard as much gushing about her fault line in the floor as I did grumbling about the excesses of the fairs. Beyond that, there were projects at the Serpentine Gallery, a Lisa Yuskavage show at Greengrassi, and dozens of side projects that took full advantage of the critical mass of insatiable art heads. The week was capped off by a slew of auctions that measured the vital signs of an art market that's been living like an aging rock-and-roll star for the past few years.
On the opening day of the Frieze fair, Jake and Dinos Chapman sat at a table systematically defacing 20-pound notes proffered by a line of collectors snaking around the premises like a hose stuffed into a clogged drain. The marked-up bills that I saw had adolescent scribbling across the Queen's face and were no more provocative than a pair of breasts drawn on a subway poster. Still, the fair's privileged guests waited hours for their souvenir of name-brand agitators thumbing their noses at a monetary system that has been more than generous to them. I heard that the bills were being resold the same day for considerably more than face value, which didn't surprise me other than the apparent immediacy of the run on them. If it wasn't exactly a Henry Ford-style assembly line, it looked enough like one to make an armchair economist squirm.
The marketing of dissent and social subversion was in good supply at Frieze, where political agendas were assumed by the most established galleries—a burden not shared as much by the other fairs. But when art is stripped of context and explication, as it is quite thoroughly at Frieze, the odd relationship between market and message becomes even more conspicuous and problematic. A perfect example is Thomas Hirschhorn's "Tripod" at Barbara Gladstone. On its own, absent the fair's trade-show atmosphere and the circling sharks it attracts, "Tripod" is a bold and purposeful statement, but I couldn't help but wonder what Jimmy Carter would think about the horrific carnage pictured on it amidst the bankrolls and fur coats. This kind of glaring disparity will undermine the most earnest artistic intentions every time. Agitative and provocative art like Hirschhorn's takes a harder fall than other art when it comes across as disingenuous, for the same reasons that a right-wing senator opposing gay marriage has more questions to answer than an ordinary citizen when he's caught in a men's room looking for love: they both have lofty promises to maintain. Maybe this kind of domestication (and, in some respects, castration) of art was in the cards for London, a town that has built its recent reputation on the establishment of anti-establishment nuisances like Gavin Turk and Damien Hirst and Tracey Emin. But then again, it's unfair to criticize individual artists for their part in a system that they have no control over.
After the heavy experience of Frieze, the smaller fairs seemed a manageable and welcome reprieve. While they still felt like trade shows, Pulse, Bridge and Year'07 offered a better unnecessary of interaction with the art. Year'07 was a little spread out and difficult to navigate, but there weren't as many visitors to contend with. The dealers and artists were more amenable to entertaining a layperson without an institutional bankroll or gaudy private collection. Schroeder Romero was a standout, boasting Laurel Roth's set of polished acrylic skulls and Andy Diaz Hope's deconstructed photographs encased in rows of transparent, lozenge-shaped capsules. Platform from Seattle had a terrific booth and so did the venerable New Yorker, Jeff Bailey, who included a few quiet and colorful gems by Chris Duncan and Louis Belcourt.
Pulse, the last fair I attended, was a sight for sore eyes. It was held at the Mary Ward House, which turned out to be the most intimate space of any of the fairs. Surprisingly, Year'07 relinquished this cozy venue for a colder and more confusing one. Pulse had as many turns and twists in its art as it did in its layout, which revived me long enough to absorb some great work and engage with what proved to be a welcoming and informative group of dealers. Mark Moore, one of the truly magnanimous gallerists, had a diverse and nicely curated room that greeted visitors like an easy chair. Chuck Person's political illustrations constructed out of dollar bills were in line with the subversive anti-war/America/Bush attitude prevalent at the other fairs, but, unlike Zoo or Frieze, Person's work came with a brief history and a good conversation with his dealer. Similarly, Freight and Volume had work by Michael Scoggins and James Everett Stanley. Both artists fit the rebellious London bill and were benefited by having Nick Lawrence reclining casually near by, ready to speak for their works. Heather Marx from San Francisco and DNA from Berlin also had great works and were busy chatting with what seemed to be less of ravenous, trophy-seeking crowd. After leaving Pulse, I started to feel guilty about allowing my critical faculties to be so influenced by the ambient environment and personal contact. I've been conditioned for years to yield only to the primacy of the work itself. But as the dust settled and the throngs left the hotels and convention halls, it was impossible to deny the effect of context, venue, and method of delivery on my perceptions. Now, at an even greater distance, the significance of this fact has led me to reassess exhibition practices in general.
Some of the best art viewing experiences I've ever had have been in artists' studios—on casual visits or that rare occasion when I can enter alone and snoop around the artifacts of an artist's vision and practice. The simple pleasures of this kind of private interaction speaks volumes about the failures of the commercial art fair, i.e., the more energy that one puts into regarding something, the more it affects what is regarded. In science this is the Heisenberg Uncertainty Principle. In sociology it is called the Hawthorne effect. And I've heard that there is a centuries-old saying in China that the more you try to fetch a stone at the bottom of a stream, the more silt you will stir up to obscure it. The trade-show phenomenon, exemplified by the goliath art fairs, is fundamentally shaped by the steely-eyed stare of the market. An artist may manage to avoid the allure of producing for the market, but not the gravity of its sterile context.
Dave Hickey gave the keynote for the Frieze fair. Mr. Hickey is loved by some insiders and reviled by just as many for his invectives against the hypocrisies of the art world. While processing my experience in London, I mustered an improbable sympathy for him; it's a lot easier to sound an alarm than to propose a better model. For years we've heard that personal background and studio practice are superfluous distractions from a critical encounter with art. No doubt this is the result of a wicked hangover from mid-century Greenbergian authoritarianism and its mild relapse of critical chauvinism in the eighties. From my perspective in London, such an idea throws the artist out with the bathwater; a little background into the artist's bio and technical approach restores the context lost in an art fair's hyper-synthetic world of isolated objects and their faceless creators. The background I gleaned from informed conversations at the smaller galleries supplied the context I needed to ground the work in a recognizable reality, while at the larger fairs that same context was being carefully manipulated by big-ticket galleries trafficking in name-brand but depersonalized commodities, processed like sausage. I don't think anyone wants to see how or where their sausage was made, but with art it isn't such a sickening thought.