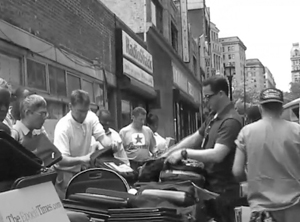 Just across from Ingersoll Houses on the other side of Flatbush Avenue looms Metrotech, an office park built in the 1980s that was supposed to revitalize a blighted downtown Brooklyn. Compared to its surroundings, such as nearby Fulton Mall and bustling Willoughby Street, Metrotech is peaceful but lifeless. For Ingersoll residents like Rachel Ford, who is 27, Metrotech has come to symbolize the broken promises of urban renewal and the growing doubt that coming development spurred by the city's Downtown Brooklyn Plan will bring anything better for the low-income, largely African-American residents who live in public housing downtown.
An increasing number of signs confirm Rachel's fears. A large banner advertisement at 27 Smith Street reads: "Dock your iPod, PDA, and MBA here." One wonders whether or not the throngs of people on the streets below would even know what a PDA is. Most kids who pass it on their way to PS 287 probably think it means "public display of affection."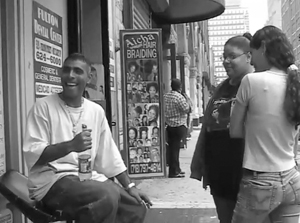 To Rachel and others, the up-zoning seems to be closing more doors than opening them for working people in the neighborhood. The Associated Supermarket, which serviced residents of Ingersoll and Whitman Houses, shut down this summer, as did a 99-cent store, a variety store, a Laundromat, a Chinese restaurant, and a number of other small neighborhood businesses. Developer John Castimatidis, owner of the Gristedes supermarket chain, did not renew the local leases, and storefronts along several blocks of Myrtle Avenue now sit like empty shells.
"As of right now, I have no idea what the plan is," said Council Member Letitia James at a recent community rally. "Castimatidis has closed these stores and created blight. Where do residents shop? Where do they get their food? They will probably demolish this entire strip and build something; the question is, what type of development? I don't know."
Enter FUREE, or "Families United for Racial and Economic Equality." Having recently witnessed the wholesale wipeout of stores along Myrtle Avenue, FUREE is organizing to ensure that development equals opportunity for downtown Brooklyn's working families.
A document released by FUREE the day of the rally (also organized by the group) stated: "We are infuriated with the Department of Buildings and John Castimatidis' thoughtless decision to shut down these businesses without proposing any interim plan to accommodate the 4,000 plus residents who live right across the street. Catsimatidis' action proves that developers do not care how far our senior citizens and disabled residents will have to walk to get their basic necessities, such as bread, fruit and vegetables, water, and toilet tissue. They do not care about the working families of Fort Greene, who will have to drag their shopping carts and laundry bags through the street this coming winter."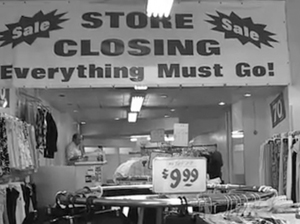 Stores are disappearing along nearby Fulton Street, too, though in a more piecemeal fashion. Several of Rachel's favorite shops have closed, including a five-dollar shoe store called Heart and Soul. "They had high heeled shoes, party shoes, fancy shoes, sneakers, sandals, any shoes you were looking for you could find. I could go right in that store and get me a pair for cheap. I had been shopping in that store for maybe five years. I've been shopping Fulton mall for altogether 17 years," she says.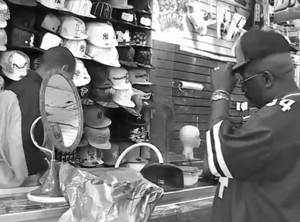 "As a child growing up, everybody from high school and from the communities of Ingersoll, Whitman, and Farragut would go to Fulton Mall just to hang out, go shopping, meet new people. A lot of young kids would get together and go and hang out. The walk there was nice. You could just walk out your building with your friends—it's like not too far from home."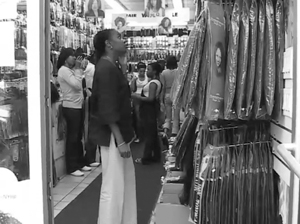 Worried about the future of her neighborhood and angry to see so many doors close, Rachel signed on to organize with FUREE six months ago. "Before, I had the attitude that it was a done deal and there's nothing we can do. But FUREE made me aware that we have a voice, that there are things that can actually be done. I started listening and bringing the info back to my community. A lot of people feel they can't make it to the meetings, but I say it's important to go so you can get the info you actually need. You feel like FUREE really gives you an outlet to make a difference."
FUREE is currently talking to small business owners to find out what pressures they are under to survive in the area. The group is also brandishing threats of a community boycott—reaching out to consumers to ask that they avoid shopping at profitable stores in downtown Brooklyn that do not offer living wages or benefits. A major protest is planned for early in the holiday season in front of these stores.
On Sunday, October 22, FUREE members will be leading a workshop at the Brooklyn Parents for Peace Annual Peace Fair. The workshop will address issues with the 2004 Downtown Brooklyn Plan, its potential impacts on low-income communities of color, and anti-gentrification organizing.
Contributor
Allison Lirish Dean
Allison Lirish Dean is a journalist and urban planner who is currently working with FUREE to produce a short documentary film about the effects of redevelopment in downtown Brooklyn.