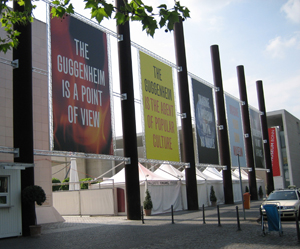 Berlin's most special dinner invitation (for paying guests) during the last few weeks was definitely Alma Mahler-Werfel's 127th birthday party at Kronprinzen-Palais (Crown Prince Palace) Unter den Linden. For twenty-five evenings, Alma Mahler (1879–1964), famous as the "widow of the four arts," celebrated with her husbands—composer Gustav Mahler, architect Walter Gropius, writer Franz Werfel—and lovers like the painter Oskar Kokoschka as well as 200 other guests at the classicist palace where Germany's last emperor, Wilhelm II, was born in 1859.
To experience Joshua Sobol's polydrama Alma – A Show Biz ans Ende, about the life and work of one of the most famous femmes fatales of the 20th century, was very unusual, spectacular. No wonder most performances were sold out. The decoration, atmosphere, and acting were like a time trip to Vienna of nearly a hundred years ago; yet, even as you walk through the elegant palais, following one of the actors, you still experience recent German history, since the building was restored in 1968/69 and used as a guest house by the East German Government. Indira Ghandi and Fidel Castro stayed there. Back in the twenties, the Kronprinzen-Palais was Germany's first museum for contemporary art. Paintings by Oskar Kokoschka, Lyonel Feininger, Franz Marc, Edvard Munch, Erich Heckel, Ernst Ludwig Kirchner and Max Beckmann were shown there. Alfred Barr Jr. was impressed by the idea and used it as a model for the foundation of the MoMA in 1929. In 1990 the German reunification agreement was signed at this place.
And now you can sit next to Gustav Mahler during his famous meeting with Sigmund Freud in Amsterdam; you can follow Franz Werfel on a trip to Palestine (by bus through the city of Berlin); you can watch a desperate and wild Oskar Kokoschka in Vienna trying to persuade Alma to have the baby she was expecting from him. Paulus Manker, actor (Oskar Kokoschka) and director, is somewhat obsessed by his subject, otherwise it would not have been possible for him to succeed in performing the play in Vienna, Venice, Lisbon, Los Angeles and Berlin with such power and energy. His performances are always in places that have something to do with Alma's life, only in cities where she had lived. Next and last on the list would be New York City, where Alma Mahler died in 1964. Paulus Manker is working on that.
Stepping out of the Kronprinzen-Palais, close to Bebelplatz where the books of German and Austrian Jewish writers went up in flames in 1933 (Werfel's were among them), a huge silver-colored tower of books with the names of Friedrich Schiller, Gotthold Ephraim Lessing, Hermann Hesse, Thomas Mann, Bertolt Brecht, Johann Wolfgang von Goethe inscribed on their spines, a so-called sculpture, brings you back into the real Germany of 2006, where the soccer world championships start in June. Resembling a bad copy of a Claes Oldenburg, this object is part of a project in Berlin called "The Walk of Ideas." It is supposed to inform tourists that a lot of inventions, like modern book printing, came from this country. A big Aspirin ("Milestone of Medicine") and a "Modern Football Shoe" close to the Reichstag, "The Automobile" at the Brandenburg Gate, and musical notes that look like autoscooters ("Masterpieces of Music") at the Gendarmenmarkt symbolize these milestones—"the richness of ideas and the spirit of invention which characterize Germany's composers, writers, scientists, engineers and perfectionists" as the organizers write, in a rather simplistic way that reminds one of advertisement more than of art. And it is no surprise that it is impossible to find out who made these "sculptures."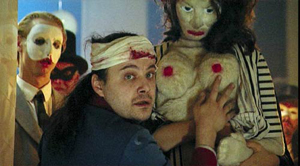 The idea behind the project comes from an advertising agency, and a lot of corporations are supporting it. The so-called sculptures serve to present a new plastic material ("Neopor") that is coated with a special new paint by one of Germany's biggest chemical enterprises (BASF), which of course is one of the project's partners. All the objects are very tall, up to 35 feet, and weigh as much as 20 tons, and they are displayed throughout the city more or less at random. They make you wonder where the spirit of invention has gone in Berlin.
Public space in Germany is often treated very badly, without feeling for proportion or style. Another example is Bonn, where the Guggenheim Museum is part of a rather atrocious campaign that destroys the possibility of public space as an aesthetically satisfying experience: As the museum prepares to present a huge part of its collection from late July until January 2007 at the Kunst- und Ausstellungshalle and the Kunstmuseum in Bonn, the Guggenheim (together with its partner in Bonn) has already embarked upon a ridiculous brain-washing campaign: "THE GUGGENHEIM IS A POINT OF VIEW," "IMAGINE A MUSEUM WITH NO WALLS," "THE GUGGENHEIM IS THE AGENT FOR POPULAR CULTURE" (surprise, surprise), "THE GUGGENHEIM IS NOT A PLACE," "IMAGINE YOUR OWN MUSEUM," "IMAGINE A MUSEUM IN CONSTANT MOTION." These trivial statements are written on banners (23' x 14') hanging between seven of the sixteen Corten-steel columns that are partly in front of Gustav Peichl's Kunst- und Ausstellungshalle. Actually the columns symbolize the 16 German states, as the architect pointed out at the opening of the building in 1992. The banners visually lock up the space between the Kunsthalle and the Kunstmuseum—the airspace at the entrance of the piazza—in a very rude way. The architect is afraid that water can get into the columns through the holes drilled to attach them. Of course he was not asked and is strictly against the banners. But this does not help. They are there and will stay until the show is over.
At Bonn's Rheinisches Landesmuseum the whole front wall (actually of glass) is decorated with a banner for "Samurai Blue," the Japanese soccer team, with an advertisement for a well-known Japanese beer and an even better known German manufacturer of soccer shoes. World championship again. The Japanese team will be staying in Bonn for the duration of the championship. Soon one will be able to eat sushi at the museum's restaurant, sit on the brand new wooden terrace and imagine a more sensible approach to public space. How about that?
Contributor
Barbara Weidle
Barbara Weidle is an art critic and curator. She lives in Berlin and Bonn.