Cai Guo-Qiang on the Roof: Transparent Monument
The Iris and B. Gerald Cantor Roof Garden
The Metropolitan Museum of Art

April 25–October 29, 2006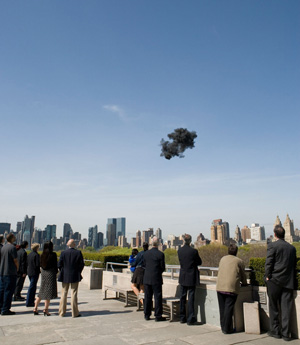 Four new artworks by Cai Guo-Qiang are now being exhibited on—and above—the Cantor Roof Garden at New York's Metropolitan Museum of Art through October 29, 2006. Bringing even the sky into play, "Clear Sky Black Cloud," three successive explosions each releasing a dark smoke-cloud, will appear over Central Park six days a week at noon for the next six months. Though a time-based event, clearly visible from the museum's roof, the park, and surrounding buildings, it is definitively short and to the point. Given the ongoing U.S. occupation of Iraq, these firepower black clouds look ominously like anti-aircraft flak, especially when accompanied by shots loud as thunder. Still, they evoke springtime's sublime kiss of bliss when they evanesce, enhancing heaven's unblemished tranquility.
Such ambivalence is key also to his three earthbound sculptures, effortlessly integrating art, architecture, and Central Park's gentle greensward. In the artist's words, these artworks aptly situate us between "history and contemporary culture, mythology and fact, nature and civilization." "Transparent Monument" is a 15-foot high by 9 ½-foot wide vertical panel of plate glass raised on twin pedestals in the middle of the sweeping roof garden. Six dead birds fashioned of fiberglass, papier-mâché, and feathers lie crumpled at the base of the glass, as if they had flown into it, clearly marking the often painfully abrupt intersection of nature with culture.
In a comprehensive if idiosyncratic synchronous narrative, nine green limestone slabs, in total 30 feet long, portray significant events since Sept. 11, 2001, relating the "uneasiness and fragility of our society at present." This "Nontransparent Monument" elaborates more than 40 scenes, with figures, from Harry Potter to the death of Pope John Paul II, Hurricane Katrina to airport security checkpoints, carved in relief by traditional Chinese craftsmen.
Tellingly, airport security measures emerge thematically as well in Cai Guo-Qiang's two life-sized matching mounted crocodiles entitled "Move Along, Nothing To See Here." These festive Chinese New Year parade-type colored "dragons" writhe, frolic, dance and snarl while stuck tip to tail with an alarming array of knives actually confiscated at global security checkpoints. Just as their spiked "porcupine" spines bring to mind the artist's 1998 work, "Borrowing Your Enemy's Weapons"—a full scale wooden ship flying the Chinese flag, suspended from the ceiling at New York's P.S.1 Contemporary Art Center and bristling with 3000 arrows—Cai Guo-Qiang's latest pyrotechnical ephemera recalls his "Light Cycle Over Central Park," that flying 1000-foot high white wheel flanked by banked lightning and haloes launched one night in 2003 above our midtown reservoir.
Born in China in 1957, Cai Guo-Qiang first acted in Kung Fu movies, and has since curated the Chinese pavilion at the Venice Biennale. An internationally provocative innovator, when referring to his most famous artistic material he once said, "There are countries where you have trouble finding oil paint, but I have been able to find gunpowder wherever I went." He currently lives in New York City, where—as if embodying some aesthetic paradox—he may have observed a hawk hovering over this beautifully subdued Met rooftop exhibit, utterly unperturbed by the artist's threatening fireworks.