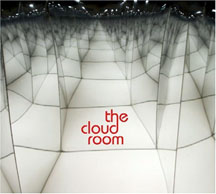 1. "in those abandoned times / that's where your lost lives can be found"
And while most bands revisiting that era seem to be name-checking the usual suspects—Joy Division, the Cure, Echo, etc.—I'm happy to report that the cloud room (spelled with lowercase letters) and their self-titled debut draw on some new castaways and revive their spirit.
Pure-driven pop with a modern sensibility, the cloud room might be some of the best pop music you've heard in a while. It's pure genius, to put it simply—catchy, comforting, easy to digest, and fun. If you were a fan of the Psychedelic Furs, INXS, or even the Some Kind of Wonderful soundtrack, you'll be in heaven with the cloud room.
Now the lyrics range from not-so-rocket science ("Hey now now/ We going down down/ And we ride the bus there/ Pay the bus fare/ And we find a new reason") to not-so-bad ("You look like a stranger/ The only advice I can give/ Is come on, come on, come on/ Come on and live") to sorta-clever pop philosophy ("Don't you wanna go to the time/ When the plans we'd make/ Were laws we'd yet to break"). But don't let that worry you, because it doesn't matter. The melodies make you feel good, and the oh-so-glorious choruses will lift your step, whatever they're saying. Seriously.
The songs flow seamlessly into each other, bringing you happily along for the ride. (Standouts include "Hey Now Now," "Beautiful Mess," "Blue Jean," and "Devoured in Peace.") the cloud room is full of carefree life, and I can listen to this album all the way through. When was the last time you really wanted to do that?
Upbeat and surprisingly groovy, the cloud room is a band you should be hearing a lot about this year. Named, supposedly, after a speakeasy at the top of the Chrysler Building during Prohibition, the cloud room is a guilty pleasure that everyone can share in. Put this in your shuffle and let go; it's music to enjoy life to.
2. "i'm wasted and i'm young, so what? so what?"
From the first pop guitar chords you understand Blue Epic's First Album: fast, poppy, ridiculously catchy, and extremely delicious. The licks, the descending down-tempo drumbeats, the soaring vocals, and the stutter-step, attention-grabbing choruses all demand that you pull out the air guitar.
In the interest of full disclosure, I've been holding on to this album for nearly a year now, unsure whether to write about it. At first, I thought it was too poppy. But every time it came up on my iPod's shuffle, I turned the volume up. It's just too much fun not to share this with other people.
From the pounding opener, "So What," right into the begging-for-a-roadtrip "Fast Car," First Album makes me smile. There is, of course, the requisite ballad ("Let Me Down"), but it doesn't turn me off or detract from the album's overall rhythm.
I like that this CD is outside of just about any genre going on right now, especially the alternative morass that is hard for most people to sort out. (Though I try to offer as much advice in that arena as possible.) First Album could have been crap because it's so far outside "the scene," but it's like fresh air in an epic blue sky. With references to Soul Asylum and Heart, influenced by the early nineties pop-rock that got washed under the grunge juggernaut (Goo Goo Dolls, Dishwalla, etc.), and hinting ever-so-suggestively at hairbands of my youth, the disc is irresistable to a child of the 80s like me.
There is no alt angst here, no hidden meanings, no retro name-checking. This is bar rock and roll, written for drinking, banging your head, and getting laid. Ah, the lost nirvana of pop-rock Jersey bands—though, of course, these guys hail from Birmingham, Alabama.
Notwithstanding their heritage, Blue Epic delivers on the power-chord promise; each song is a gem, deceptively simple and constantly rockin'. (Yes, I used the term "rockin'.") Blue Epic is not afraid to enjoy their music, make it well, and have fun screaming it, whether with screeching guitar, thundering drums, or bloody vocals.
When was the last time music really just made you smile?
Contributor
Grant Moser
Grant Moser is an art writer and frequent contributing writer for the Brooklyn Rail.