FICTION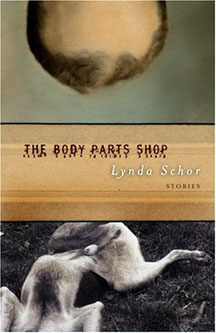 "How to Buy Happiness" by Pat MacEnulty
Lynda Schor, The Body Parts Shop: Stories (Fiction Collective Two, 2005)
You probably don't realize just how much a hair follicle resembles a penis unless you've read Lynda Schor's story "The Scalp Agency," one of eleven stories in her most recent collection, The Body Parts Shop. Carl, the main character of this story, is obsessed with hair and his lack of it until he finds a scalp agent who will help him transplant someone else's hair to his own head. This particular story comes with illustrations, as does "The History of My Breasts."
I first came across Schor's work about twenty years ago when she taught a fiction workshop I took in Miami. Then, as now, her stories were a thinking woman's exploration of sex, the body, and relationships. Her provocative new collection shows that her work continues to be relevant as she skewers our culture's preoccupation with self-help manuals and pokes fun at our (and her) obsessions.
"Marital Bliss," a takeoff on the Sensuous Woman and Sensuous Man books, dives into the lives of The Sensuous Couple. The seventies are over, but this couple continues to adhere to the rules of gentle and diligent sexual engagement in spite of the demands of 21st century family life. Not surprisingly, they find that "lately they have not had time for their Sensitivity Exploring Exercises."
When their unappreciative teenage children suggest therapy, the Sensuous Couple end up in a psychologist's sumptuous office, replete with Warhols and Rauschenbergs on the wall and a new dictum for satisfaction. There they discover what the market has been telling us all along: You don't need love, you need wealth!
Schor gazes at American culture with a Swiftian eye. She depicts an American dream world where reality shifts with alarming speed. In "Coming of Age," a feminist freelance writer is reduced to writing magazine articles such as, "It's Great to Marry for Money." The narrator explains she had to do a lot of research for the article "since I've never been smart enough to try it."
Lo and behold, she discovers her 14-year-old daughter has figured out you don't have to marry for money when you have an extraordinary talent for giving blow jobs. "She can take 12 inches," the daughter's pimp brags. Not only has her daughter become a prostitute, but the benefits of the girl's new profession are difficult to dismiss. She and her pimp have rented the apartment across the hall. "[T]hey connected here, so we renovated and now we have a gorgeous ten-room apartment," her daughter tells her.
The narrator has become diminished in every way possible and her feminist past rendered meaningless, a feeling that many women over the age of forty will no doubt find familiar. Who cares about the ERA when the world has its sights set on Paris Hilton?
All the stories provide oblique commentary on our culture. In "Collateral Damage," a Columbine-like killing spurs a feeding frenzy among the media around a pizza parlor where the two young killers worked. At first dismayed, the proprietor discovers the power of negative publicity. He begins naming his pizzas after weapons, welcomes the media, and soon is taking orders from members at an NRA convention.
Schor's happy endings, sometimes labeled as such, refuse to sentimentalize or moralize. The characters quite often find that money can buy happiness, that skin-deep beauty is more than enough, and that living in a world where "there was no Vietnam" is great.
But Schor's stories have tender moments as well. One of several moving stories in the collection, "Still the Top Banana," deals with the post-Tarzan history of Cheetah, Tarzan's chimp. Cheetah, apparently, has a lot on his mind, including his ne'er-do-well progeny and the fact that he's listed in the Guinness Book of World Records as the longest living chimp. Though the premise is unapologetically absurd, somehow Cheetah becomes a viable character through the telling of the story. His dilemma of being rich and famous but with no control over his life or assets becomes poignant.
The question Schor's characters most often seem to ask is, what does it take to just be happy?
At the end of "The Scalp Agency," Carl believes himself to be happy with his new head of hair, even though "so far the kind of woman he wants hasn't fallen in love with him." Roberto, who sold his hair to Carl for $10,000—money that is soon gone—misses his hair more than he thought he would. And the scalp agent, who also collected $10,000, might be described as temporarily happy, "as he holds the packet of checks before he takes them to the bank, feeling its weight, feeling each flip silkily back as he riffles them absently, sensuously between his fingers."
Pat MacEnulty is the author of the novel Sweet Fire and the short story collection The Language of Sharks, both published by Serpent's Tail Press.
LITERARY HISTORY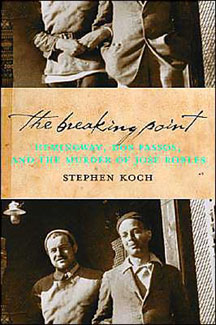 "Sex, War, and Intrigue" by Lisa Selin Davis
Stephen Koch, The Breaking Point: Hemingway, Dos Passos and the Murder of Jose Robles (Counterpoint Press, 2005)
Hemingway was a jerk, and if you don't believe it, just drop in on a few pages of The Breaking Point: Hemingway, Dos Passos and the Murder of Jose Robles, Stephen Koch's historical biography. Koch is not afraid to have a point of view, and he's not afraid to blur the lines that demarcate biography, memoir, historical novel, and narrative nonfiction. In fact, what lines? He inhabits each of the many fascinating players in this story, from Hem and Dos (as they called one another) to Martha Gellhorn and Joris Ivens, the documentary filmmaker/propagandist and Stalinist apparatchik (a fascinating figure in his own right for his duplicity). The characters bloom in a literary, historical, and political context, inviting the reader to experience the Spanish Civil War through each of their perspectives.
The difference between writing history and writing fiction, said E.M. Forster in Aspects of the Novel, is that the writer of fiction has access to the inner life of a character. "The historian," Forster writes, "deals with actions and with the characters of men only so far as he can deduce them from their actions. He is quite as much concerned with character as the novelist, but he can only know of its existence when it shows on the surface."
Koch is playing with these genres, with their boundaries. He brings us the story of a friendship destroyed by ego and politics, delving far beyond surface actions—the what—exploring deep within all the murky places of why. We have here all the messy complications of the Spanish Civil War—Stalinism and Trotskyism and fascism competing for the same small stretch of soil—but we have it at the human scale, and Koch allows us to see how modernism and literature are affected by politics.
For Hemingway, the Spanish Civil War was a kind of mistress. Koch calls Hem's pattern of destroying one marriage in favor of another his "rebirth through death" syndrome, integral to his artistic process, and the war was connected to this particular stream of women. "The time it took Hemingway to end his marriage to Pauline Pfeiffer and make a new beginning with Martha Gellhorn," Koch writes, "was exactly the time it took for the Spanish Civil War to end." A coincidence? Koch thinks not.
And in that time, Hemingway continued his meteoric rise to the top of America's literary canon, and Dos began his descent. While the war was a cause célèbre for Hemingway, it was pure political passion that brought Dos Passos to Spain. The foremost leftist writer in America at the time, Dos is largely forgotten now, in part, in turns out, due to Hemingway's cruel and calculated slander.
The bulk of the action takes place in Madrid's Hotel Florida, where writers and journalists camped out during the war. Antoine Saint-Exupery was there, and Hem's friend Josephine Herbst, the Duchess of Atholl, and George Orwell, and Errol Flynn—everyone, it seemed, but Dos's dear friend Jose Robles, a professor at Johns Hopkins who had left his post to serve in his home country and to try to release his beloved Spain from Franco's Fascist grip.
Robles had been murdered, and it was Dos's relentless pursuit of the truth of his death that caused Hem to dismiss him, and even attempt to destroy him: Dos was embarrassing Hem, tarnishing his reputation, his position. Dos was making trouble within the causa, making scenes. So Hem and Herbst passed on a rumor about Robles to Dos in order to humiliate him, passing Robles off as a Fascist spy, justifying his murder. "By now Hemingway was glowing with confidence and cruelty, cutting into Dos Passos with the 'news' he had just learned from the 'German correspondent.'"
Hemingway, in Koch's hands, while a genius, was also completely disloyal, insecure, philandering, lying, paranoid, and unkind. And, like many of their colleagues who set out to aid in the Spanish causa, it seems he didn't really care about the Republic of Spain. Ivens was there to push Stalinism; Hem and Gellhorn were there to push their own careers. The ones who did care—Dos and Robles—were punished. Dos was pushed out of the literary and even the leftist world, a tool at the hand of the apparatchiks that they no longer needed (indeed, he became an impediment to their cause), and Robles was murdered. Hemingway was punished in his own way, with writer's block and with his miserable marriage to Gellhorn.
Although occasionally bogged down by too many points of view and in need of a mild weeding, The Breaking Point is commendable for its reach, its thoroughness in investigating the ways in which romance (both sexual and political) and war intermingle (a winning approach for those of us who were raised both on The Love Boat and The Old Man and the Sea). An investigation into an electric moment in history, it reads more like a novel—a thriller, even—full of the interior life missing from most history books.
Lisa Selin Davis is the author of the novel Belly, coming in July from Little, Brown & Co.
ART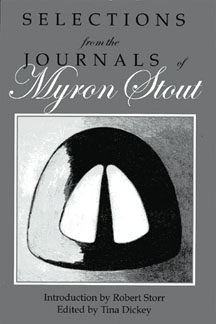 "A Painter's Progress" by Phong Bui
Edited by Tina Dickey, Introduction by Robert Storr, Selections from the Journals of Myron Stout (Midmarch Arts Press, 2005)
The 18th-century English poet Dr. Edward Young once asked, "Why is it that we're all born originals but die as copies?" It's quite contrary to what Guillaume Apollinaire, the 20th-century French poet, had said: "Nothing is new under the sun, but that's for the sun. For man, everything is." Having read through this long-awaited volume of Myron Stout's journal, I see the two poets' remarks as taking on a conundrum of the artist's evolution.
A published selection from Stout's journal is itself an event. The edition is wonderfully edited by Tina Dickey and includes an insightful introduction by Robert Storr. To date, only a few excerpts have been previously published—having been included in some of Stout's catalogues or magazine articles—and this is a thrilling opportunity to learn more about the painter's inner dialogue with himself and gain further insight into the surface of those impenetrable works we've all been enthralled by.
In a noncatechistic style, though not at all diaristic in the sense that it pertains to his personal life, Stout's journal is neither confessional nor driven by the need to define and classify art. It is, rather, a modest yet incisive reflection on various subjects that include his thinking about artists of the past, such as Cimabue, Uccello, Raphael, and Cézanne, and his own contemporaries, such as de Kooning, Pollock, Jan Müller, Allan Kaprow, and George Segal; his passionate commentaries on essays by such art critics as Harold Rosenberg, among others; and his discussions of scholarly books on art, literature, and philosophy by Erwin Panofsky, Germaine Bree, Leonard Woolley, R. M. Adams, and Henri Frankfort.
One feels sympathetic and reassured by Stout's continuous questioning. This applies clearly in the case of Stout's training with Hans Hofmann, with whom he had studied from 1946 to 1953, both in New York and Provincetown. Through many recollections highlighting Stout's appreciation of Hofmann's insistence on the spiritual practice of art, the journal reveals a genuine admiration for his formidable teacher. Especially central was Hofmann's landmark definition of plastic creation (according to Hofmann, plasticity is the equivalent of a three-dimensional form being flattened out, otherwise known as "push and pull"). There are also instances of Stout's own thinking processes, at times revealed by factual observations of his surroundings and daily life, at other times in direct engagement with his own self-assessing. The following is a paragraph dated July 8, 1952:
We believe that modern abstract painting: affirms rather than negates;
that it is done in faith instead of in despair,
that it re-humanizes instead of de-humanizes, And that it is a positive seeking instead of an escaping.
That it is intelligible and wholly open to the responses of all human beings.
Ever since the painter's retrospective at the Whitney Museum in 1980, curated by Sanford Schwartz, the mystic and legendary status of Myron Stout has steadily grown within and beyond the art world. Among nearly a dozen exhibitions of his works, many of us were swept away by three in particular—one of which was simultaneously mounted in three galleries: Oil and Steel, Barbara Flynn, and Kent Fine Arts in 1990; the other two showcased The Unfinished Paintings in 1997 and Selected Drawings in 2002, both at the Joan T. Washburn Gallery. For all the journal offers, it's still nearly impossible to comprehend how the vast scope of his interest in ancient history, Greek literature, art, and philosophy all came into such singular clarity. As he would adjust ever so subtly, with minute changes, it sometimes would take him ten years to finish a painting or drawing; and perhaps such titles as "Demeter," "Delphi," "Tereisias," and "Hierophant" suggest the depth of Stout's assertion and restraint in negotiating such a taut balance. In Stout's work the duration of time becomes timeless; one is to be submerged into the remote past that exists within us. As he eloquently wrote on September 13, 1953:
A work of art is a release from the moment into all time. It is a release from the immediate place into all space. It would be possible to call this ideal time and space but that indicates too much of an abstraction, for it is a time in which we are participating and a space which we are inhabiting.
ARCHITECTURE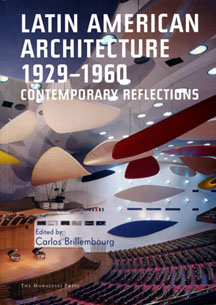 "Modernism South of the Border" by Roger Kamholz
Latin American Architecture 1929–1960: Contemporary Reflections (The Monacelli Press, 2004), Edited by Carlos Brillembourg
In Latin American Architecture 1929–1960, Carlos Brillembourg and his fellow contributors set an exuberant tone, hailing the "golden age" of Latin American architecture before setting out to evaluate the subject through pointed essays, which focus on key figures of the modern movement and the congress of factors that fostered a distinctly Latin American modern architecture.
In the face of the difficulty of encompassing this vastly complex subject, the collection orients itself in terms of championing the neglected, offering fresh accounts of architects whose work demands further consideration. Additionally, a lively discussion highlights controversial issues affecting the region—a debate that concluded the 2002 conference in New York (from which the text is derived). Though no single volume treating the subject could be entirely satisfactory, the viewpoint that a dialogue should be opened between Latin America and the rest of the world constitutes a fertile point of departure.
A touchstone in modern architecture's coup in Latin America can be pinpointed to Le Corbusier's arrival there in 1929. In his essay, Kenneth Frampton suggests that the master's visits in Latin America, outwardly reflected in his lectures and projects, left a lasting impression on the young native architects. Frampton relates how the Brazilian Oscar Niemeyer had a particularly pronounced reaction to Le Corbusier and subsequently synthesized his tendencies, begetting the paradigms of the movement. By the late 1940s, Niemeyer and Le Corbusier's exchange of ideas became bilateral.
Lauro Cavalcanti goes on to emphasize Brazil's prominent role during the period. World attention fell upon the country and its precocious synthesis of modern trends due to a widely traveled exhibition spearheaded by the Museum of Modern Art called Brazil Builds, along with the Brazilian Pavilion at the 1939 World's Fair in New York. Though Cavalcanti notes a "worldwide diffusion of Brazilian architecture," sadly, there is little indication of the outward flow of ideas in terms of realized projects abroad.
Carlos Villanueva's Aula Magna Auditorium for the Central University of Venezuela in Caracas receives due attention from Brillembourg in perhaps the most compelling essay on modern architecture in the collection. As in Frampton's essay, Brillembourg's focus on the cooperation between a Latin American and an outsider suggests how inclusive the creative environment had become, though Villanueva's collaborator was not a fellow architect but the sculptor Alexander Calder. His contribution of the interior's acoustic "clouds" along with Villanueva's fan-shaped building make, Brillembourg effusively argues, for a space that represents "a true synthesis of the arts."
Jorge Francisco Liernur carries this theme into his own study, examining Argentinean and Uruguayan experiments in integrating art and architecture. In addition to a fervent investigation into the possibilities of abstract art, the region's artists also absorbed the still youthful tradition of Mexican muralism. Architects such as Mario Payssé-Reyes and Eladio Dieste, though contrasting in their respective approaches, both nonetheless recognized art's importance to their practice. In contrast to the more pluralistic Aula Magna, the collaborative endeavors in Argentina and Uruguay were more resolutely local.
José Antonio Aldrete-Haas casts Mexico's adoption of modern architecture as representative of the country's larger struggle for a distinct identity. Aldrete-Haas documents the country's gradual transition toward what he calls a "Mexicanized" architecture that exists at the crossroads of international and native influences. Indeed, Mexico's search for its own architectural dialect is still a viable concern today. Recently on view at the AIA Center for Architecture, Mexico City Dialogues chronicled new architectural developments in Mexico City and provided an impromptu supplement to the author's coda on contemporary Mexican architecture.
Modern architecture's transit to the Antillean Islands, Roberto Segre indicates, was somewhat stalled due to a slow diffusion of ideas and an attachment to traditional modes. Nevertheless, and as in other cases, governments supportive of progressive architecture surfaced on a number of island nations. Cavalcanti argues that a triangle of influence formed between Europe, the United States, and Brazil during this period, suggesting there existed a free flow of ideas in every conceivable direction. Yet demonstrating how the world outside Latin America was affected by its innovations seems to have fallen outside the intent of this book. A further-reaching probe into this question could have proven invaluable. Considering the external influences on Latin America, shouldn't the converse, too, be worthy of mention? That the objective of the conference prompting this book was to fashion "critical tools" towards understanding the period demonstrates that revisionism continues to color Latin American architectural scholarship. In that case, perhaps soon enough Latin America as a source of ideas will be considered as well.