On the Art of Sticking Out: Clubbed Thumb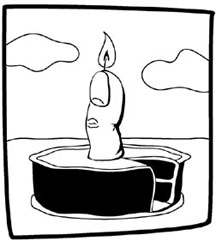 Clubbed Thumb makes it happen in a big, messy, fantastic way and I am so happy they are around.
--Sheila Callaghan, playwright
First, they browbeat Wallace Shawn into seeing things their way. Then, they named their company after a deformed digit. Now, they're offering $15,000 to the best pitch for a new play that might have something to do with a legendary stash of ducats that may never have actually even existed.
Even measured against the eccentrically resonant vibe that is known collectively and loosely as "downtown" theater, Clubbed Thumb has a way of, well, sticking out.
Begun in 1996 by Brown/UCSD graduates Meg MacCary and Maria Striar as a one-shot deal with a single play and a small performance space on the Lower East Side, "Summerworks"—Clubbed Thumb's annual festival of new works—celebrates its tenth anniversary in May at SoHo's Ohio Theater with a month-long showcase of five new works by rising downtown playwrights. Three will be full productions; two are readings of works-in-progress that are part of a "Summerworks" spur line known as "Boot Camp."
Ten years can be several millennia in the lifespan of a small theater movement so far off-Broadway that now a good portion of it has jumped the East River into Brooklyn. In Clubbed Thumb's case, it's been more a succession of narrowly-averted disasters than any long-range business plan—in the beginning, at least.
"We were a year or two out of grad school and tired of being dependent on other people for our projects," remembers Striar, who, along with partner MacCary, still co-helms the Thumb. "Meg wanted to do the Wally Shawn play, Marie and Bruce and asked me to direct it. We rented the House of Candles at Stanton and Ludlow and asked friends and friends-of-friends if they had stuff they wanted to do. That first festival was dense and uncurated, but pretty great."
It also had a "little snafu" in the form of Mr. Shawn. "He was not all that receptive to the idea of his play getting a NYC production," Striar says. Rather than dropping Shawn for a playwright more readily amenable to production, Striar and MacCary instead pulled every string and connection they had to put pressure on the playwright "until he relented." Shawn ultimately not only approved of Clubbed Thumb's production of his play, he became an early member of its advisory board, a group that has since grown into an impressive lineup that includes Kyle Chepulis of the Flea theater, Kristin Marting of HERE Arts Center, playwright and former Brown mentor Paula Vogel, and downtown über-guru Mac Wellman.
They truly want to see a new play up on its feet for the first time.
—Kate Ryan, playwright
The inaugural "Summerworks" may have been dense and "messy" but it also began the Thumb's reputation as both nurturing haven and launching pad for new work that over the years has gathered a whole stable of playwrights who wax nearly reverential in their praise.
"I had a fantastic experience with Clubbed Thumb," recalls Sheila Callaghan, whose Crumble (Lay Me Down, Justin Timberlake) was part of the 2004 fest. "Maria and Meg are so super-dedicated to new writers and work that takes risks. I don't often come into contact with folks who are so committed to that kind of theater."
Fellow playwright Kate Ryan (Design Your Kitchen, Summerworks '03) agrees, adding, "Clubbed Thumb is one of the only theater companies producing true 'strange, funny and provocative' new work. There aren't many other homes for new plays that fit this description, yet there are many talented writers creating them."
Coming to producing from the inside-out, or bottom-up—as actors—has given MacCary and Striar a particularly empathetic perspective on the Sisyphean challenges faced by original, off-center playwrights in today's largely corporate-theater market.
"We know the raw deals they can get," says Striar. "So we try to create a really respectful, non-exploitative community and work environment."
Although Clubbed Thumb produces throughout the year with "some kind of fall and winter production"—Rinne Groff's Inky, Adam Bock's The Typographer's Dream and Erin Courtney's Demon Baby counted among them—Summerworks is the Thumb's centerpiece showcase of new work, and the culmination of a year-round process of reading, seeing and otherwise seeking out new material.
Playwright Ann Marie Healy, a veteran of five Summerworks seasons, remains "pretty amazed" at how true Clubbed Thumb has adhered to its original mission statement after a decade in the downtown trenches. "I've never felt anything but genuine support from them," says Healy. "There is a real artistic integrity to the choices that they make."
Those choices are the result of an ongoing, sometimes combative dialogue between Striar and MacCary about what makes a Clubbed Thumb play. "We have different opinions about things, which is good, ultimately," notes Striar of the process. "Now and then it gets heated, but eventually we work it out."
Also, they run a tight ship.
—Ethan Lipton, playwright
Where other small theater companies have foundered and sunk in the fierce waters of New York theater, Clubbed Thumb has flourished. As with the near-debacle with Wallace Shawn that launched them, "Boot Camp" emerged from chaos and failure as well, spawned when a co-production fell through and MacCary and Striar found themselves with two weeks in a theater and no play to put up. Instead of folding their tent and going home, they sensed opportunity to expand.
"We thought, why not create a program that has the essential amenities of rehearsal, but with the priority being the development of the script and the needs and desires of the playwright?" Striar asks. Thus, Boot Camp was born.
After four days locked in rehearsal with a director, cast and "a rented printer," playwrights emerge with new versions of their works-in-progress, ranging from general tweaking to completely re-imagining characters. One survivor of this process is Ethan Lipton, whose 100 Aspects of the Moon, Boot Camped in 2004, is one of the three main stage productions in this year's Summerworks.
"They respect the work without abandoning it," Lipton says of Striar and MacCary's approach. "By this I mean they're a presence as producers, but they expect the artists to be the ones chiefly responsible for working out the problems of the play. Not every process fosters that kind of freedom. This process does, and it's because of the atmosphere Clubbed Thumb has created."
Sometimes, the process is based on negotiation, flexibility and a ferocious devotion to vision. Sometimes, it's just based on laughs. As with their name: Clubbed Thumb.
"For our first festival, you know, there had to be a name," Striar recalls. "We were flipping through my library and free-associating when Meg picked up a book I'd been given on Victorian palmistry, and she laughed at the name of the clubbed thumb. I'd be lying if I said we chose it for its symbolism. Mostly, it made us chuckle. We make a number of our decisions that way."
Despite early cases of confusion and misunderstanding, the name stuck. "My grandmother always referred to us as 'Clubbed Foot,'" says Striar. "And we had a funder who said he resisted giving us money for years because he thought we were mocking the handicapped."
Ten more years, and then some more after that.
—Rinne Groff, playwright
Financial survival, not to even mention solvency, is a constant, nagging challenge for theater companies large and small, so Mac Wellman truly rocked the entire downtown theater world when he announced recently, on behalf of Clubbed Thumb, that this Fall the theater company will award its first Biennial Commission, a $15,000 grant awarded directly to a playwright chosen from open proposal submissions. The Commission is made possible by an anonymous donor who "feels strongly that the world is improved by spirited discussions about truth and history," as the Thumb's MacCary puts it.
"For years we have only been able to pay playwrights a small fraction of what they are worth," MacCary continues. "We hope this will really make a difference in their professional lives. It is one thing to develop and produce a play that's already born. The Biennial Commission allows us to be involved in the moment of conception."
Playwrights are invited to submit proposals based upon Commission Description and Guidelines, which call for at least three characters, a "reasonable representation of women" and a theme, one appropriately flexible, enigmatic and intriguing: "Yamashita's Gold."
"We chose 'Yamashita's Gold' as the inaugural theme because it's specific, but open-ended," MacCary explains. "No one knows if it ever really existed, or what happened to it. So, great mystery. Many interpretations. We want people to take whatever they discover about this mysterious topic and run with it in whatever direction they wish. Or just use it as a jumping-off point."
"Jumping off" is what playwrights do every time they turn a play loose upon the world, and for ten years now, Clubbed Thumb has been there to catch them. "They have supported me at every step of my career in real ways," says Rinne Groff. "Productions, readings, workshops, even some cash! But the best thing about Clubbed Thumb is knowing it's there. I like going to their shows as much as I like being a part of them."
Clubbed Thumb's Summerworks will run May 4-28 at the Ohio Theatre, 66 Wooster Street (between Spring & Broome). Tickets: $15, www.smarttix.com or 212-868-4444.
Mainstage line-up (all shows at 8pm):
100 Aspects of the Moon, by Ethan Lipton, directed by Emma Griffin (May 8-10 and 12-14)

Madame Killer, by Honour Kane with Diana Kane, directed by Wier Harman (May 15-17 and 19-21)

Dearest Eugenia Haggis, by Ann Marie Healy, directed by Melissa Kievman (May 22-24 and 26-28)
Bootcamp will feature new plays by Anna Ziegler (May 11) and Alice Tuan (May 25).

For more info: www.clubbedthumb.org
Contributor
Brook Stowe
Brook Stowe is a playwright and the editor of the annual New York Theater Review.