The Price of Ratner's Hoopla: Brooklyn Stadium a Money Loser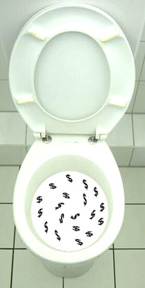 The Big Picture

The much-anticipated report on the financial feasibility of the proposed Atlantic Yards project was released on May 1, 2004, and the message was not only stark, but considering the fact that the study was commissioned by Ratner & Co., rather startling: The proposed Brooklyn basketball stadium is not a good investment for the City and State of New York. In fact, according to the report, the stadium will be a money loser. It turns out that it is the housing, office, and retail development that may turn a profit for the city and state from anticipated tax revenues.

I recently wrote a public letter to the Ratner companies (see Rodgers, "Letter to Ratner," the Brooklyn Rail, May '04) questioning the economic rationale behind investing in the Atlantic Yards project in light of the abundance of vacant office and retail space in New York City. After reading this new report, I stand not only corrected, but abashedly so. It is clear that Mr. Ratner knows how to do his job well. Too bad we cannot say the same thing of our elected officials. The report clearly suggests that, having convinced civic and state leaders that this project will help bring jobs—and "pride"—to Brooklyn, Ratner and his company not only will be given a portion of the site to develop either for free or at a rate significantly below market value, but they will also receive an $18 million annual payment from the city and state to finance the construction of the project.

The city and state of New York will thus not only support Ratner's plan but also subsidize it without due consideration for current residents, existing businesses, and the future economic, environmental, cultural, aesthetic, and social development of Brooklyn. It is our civic and state governing bodies whose motives and logic we need to take issue with by questioning just whose interests our elected officials are there to serve.

The Numbers

The report, entitled "Estimated Fiscal Impact of the Atlantic Yards Project on the New York City and New York State Treasuries," was commissioned by Ratner and written by Andrew Zimbalist, an economics professor at Smith College. The various cost estimates in the report were taken from various sources and all confirmed by Ratner. The good news is that the numbers speak for themselves even if Zimbalist, a noted expert on the poor economic return cities can expect from stadium deals, ultimately endorses the Ratner plan.

It is estimated that the proposed Nets stadium will require the city and state to contribute almost $200 million in land and infrastructure improvements and to put up $18 million annually over 30 years to support construction. The stadium, according to the report, is then expected to generate city and state tax revenue of a little less than $18 million annually. Zimbalist goes on to explain that he sees the Atlantic Yards development project as a good investment for the city and state because of the sales and income taxes generated from the new residential and commercial development that Ratner plans to build alongside the new stadium.

Digging deeper into the financial report reveals more troubling financial information. Of the $18 million in estimated tax revenue from the stadium, almost half of that is from income tax on Nets players' salaries! A quick look at the actual taxes paid on multimillion-dollar salaries, as those of the Nets players are, reveals that much of this anticipated tax income may never be collected by the city and state. Meanwhile, the amount expected from the City of New York to fund the primary services—fire, police, and sanitation—required for this new project is ongoing and is estimated, very conservatively, to add $220 million to the total bill. (See sidebar for a breakdown of total estimated costs to the City and State of New York.)
!!bl!!
In terms of the proposed benefits of the project, city and state officials point not only to additional income and sales tax revenues but to new jobs for Brooklyn. Yes, Brooklyn needs new jobs, and yes, Brooklyn needs the city and state to support the creation of these employment opportunities.

But again, the numbers in the Zimbalist report paint a rather different picture from the one that Ratner himself has been promoting. Ratner claims he will bring 10,000 permanent jobs to Brooklyn. But Zimbalist writes in his report that "a new sports facility by itself should not be expected to raise employment or per capita income levels in a community." In line with this assessment, the report indicates that arena worker salaries will total approximately $7 million annually, which, if you assume the average arena worker is making anywhere from $20,000 to $24,000 per year, means the arena itself will bring about 300 new jobs to Brooklyn. Requiring a total cash and land investment from the city and state of $450 million, which excludes the ongoing cost of services, each of these 300 jobs is costing $1.5 million to create.

Such an equation is clearly absurd, yet even considering the estimated new jobs that will be brought to Brooklyn from the entire commercial and housing development, the cost of each new job is astonishingly high. In the most optimistic case, Zimbalist still estimates that each new job created will cost $60,000, based on the cash and land invested in the project from the city and state. Given the fact that the city and state are prepared to invest such a significant amount of money in job creation, one has to then ask whether this money could be used to create jobs other than low-wage retail positions that will make up the bulk of new employment opportunities from this project.

The Atlantic Yards project, if it is approved, will create some jobs, but clearly not as many as Ratner has been claiming, and at a significant cost. My favorite assessment of the stadium for jobs equation comes from the journalist Neil deMause, who commented to Newsday in January that "the only thing we can be sure of is that the new stadium will move 12 jobs from New Jersey," referring to the actual number of players on the New Jersey Nets team.

Some Ratnering and Raving

If the Atlantic Yards project is really about housing and commercial development in an area of Brooklyn in which Ratner already has a significant financial stake—and it is becoming clearer and clearer that it is—why are the City and State of New York subsidizing a single private developer without a call for competing bids and plans and without further investigation of the long-term environmental, social, and economic viability of such development? This economic feasibility report, like a forthcoming environmental feasibility study, is commissioned by Forest City Ratner. Shouldn't our government be conducting its own studies to evaluate and assess the short and long-term impact of this project? Shouldn't there be a master plan for developing Downtown Brooklyn in a way that serves both community and private interests?

Mr. Ratner is planning on building 4,500 housing units that will be sold or rented at market rates. And where will that money created by sales and rents on these new housing units go? Well, right back to the Ratner Companies, which are not being asked to pay taxes to the City and State of New York for the next 16 years because their development project is part of New York's Industrial and Commercial Incentive Program (ICIP).

Imagine, if you will, that the City and State of New York not only gave you part of the land to build your house on, but then financed a portion of the construction costs and followed that up by not requiring you to pay taxes for the next 16 years. It sounds like a very good deal to me. And it is a very, very good deal for Ratner.

Rather than protecting the long-term growth of Brooklyn, city and state officials are preparing to make an investment in a plan that guarantees two things: significant short-term profits for a commercial developer and significant long-term costs to taxpayers. Local residents know that the price of the Ratner plan is enormous in terms of the effects it will have on the social fabric of Brooklyn and on their day-to-day lives. What the Zimbalist report makes clear, however, is that the cost in terms of cold hard cash and an open democratic process is also high. The latest dribble-down model outlined in Zimbalist's report is not just drivel, however—it is serious business and anyone who lives in New York City should be seriously concerned.
---
What You Can Do to Support Sustainable Development in Brooklyn

RALLY JUNE 19th at 2pm: Pacific Street and 6th Avenue

WRITE YOUR CITY COUNCIL AND STATE REPRESENTATIVES